1963 500cc BSA Gold Star Model DBD 34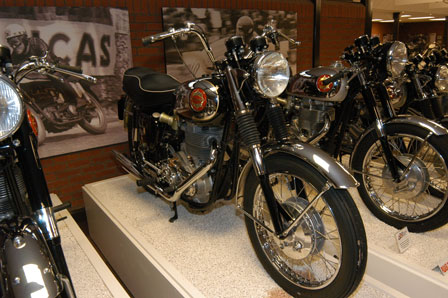 Commencing with the 1937 BSA Empire Star, which first bore the Gold Star name after Wal Handley's 100 mph lapping of Brooklands, many variations on the theme were to follow. In due course, models appeared in Trials, Scrambles and road racing guises and at one period it was said that there wasn't much point in entering Clubman's Class racing if you didn't own a Goldie due to almost complete domination of that class in the Isle of Man TT races.
However, by 1957 the Clubman's class had gone from the island and the DBD 34 performance was no longer competitive in road racing. Also, the specialised production of these motorcycles no longer had a place in the BSA programme as the single cylinder range was mainly of unit construction. Also, Lucas finished the manufacture of magnetos and dynamos, so that a major redesign would have been necessary to enable alternators to be incorporated and that was not considered to be justified.
Following this reasoning, the 350cc Goldie was phased out in 1962 and the BDB 34 went in 1963. No doubt it was a correct commercial decision but the passing was greatly mourned by enthusiasts all over the world.
This particular motorcycke, bearing the engine number DBD GS 7160 was the very last Gold Star to be built by BSA. The motorcycle was produced to fulfil a special request order by BSA dealer, Metropolitan Sports Motorcycles of Nova Scotia, Canada.