2005 Honda CRF250R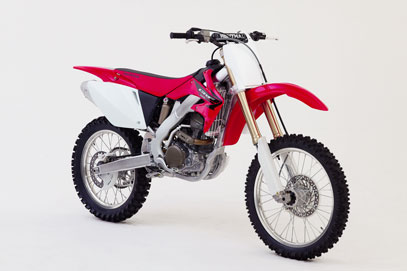 The 125cc motocross racing class will never be the same. Now even lighter in weight and faster off the line, the new 2005 CRF250R's special blend of quick-revving, race-bred 4-stroke performance conquers the tight berms and high-flying jumps of the motocross circuit with confident ease. Its compact, liquid-cooled 4-valve Unicam engine delivers a wide band of useable power with sharper low-end acceleration for instant leaps out of the corners. And its lightweight and rugged aluminium frame and optimised suspension systems provide amazing control combined with rugged durability that smokes the competition like never before. Racing improves the breed, and for the new CRF250R, the best has just begun.
Colours
Extreme Red (with White number plate and sidecovers)
New Features
New cylinder head porting for increased power at lower engine speeds.
New camshaft profile increases low-rpm torque while maintaining maximum power output.
New ignition map works in conjunction with new cylinder head and camshaft for improved power at virtually all engine speeds.
New spark plug features side electrode for improved spark and more complete combustion.
New aluminium spark plug pipe for lighter weight.
New lightweight right-side engine cover for improved transmission and clutch lubrication.
New stiffer clutch springs for improved feel and increased durability.
New shift drum, shift forks and shift fork shafts for smoother and more precise shifting.
New rear wheel hub is lighter and stronger.
New swingarm construction for lighter weight.
New exhaust pipe for lighter weight and enhanced mass centralisation.
New muffler design for lighter weight and enhanced mass centralisation.
New rear brake pad insulators for consistent braking control.
New fork and rear suspension valving for improved bump absorption.
New front axle placement for improved fork action and turning.
New improved Pro-Link ratio for more compliant suspension operation.
Overall bike lighter by 800 grams.
Engine/Drivetrain
Powerful 249cm³ liquid-cooled 4-stroke 4-valve Unicam engine designed to produce power across a wide rpm range for easy-to-control operation.
Lightweight and compact internal auto decompressor and handlebar-mounted hot-start system provide superb operation, hot or cold.
Compact, lightweight engine assembly weighs only 23.9kg.
Unicam valve train provides both the light weight of a compact single-cam drive and an optimum combustion chamber shape for maximum power at all engine speeds.
Unicam valve train features a single carburized camshaft directly actuating two 31mm titanium intake valves. The camshaft's centre exhaust lobe actuates two 26mm steel exhaust valves via a low-friction forked roller rocker arm.
Lightweight titanium intake valves permit use of smaller valve springs, reducing overall engine height.
High-strength, low-carbon steel crankshaft with carburised main journals for maximum durability at sustained high-rpm operation.
Forged slipper piston and rings are lighter than conventional designs, revving quickly while maintaining excellent cylinder sealing, high 12.9 : 1 compression ratio and highrpm power.
Double-carburised connecting rod utilises a big-end needle bearing for maximum high-rpm performance and durability.
Lightweight NiCaSil cylinder lining ensures cooler and quieter operation for extended engine life.
Press-fitted aluminium spark plug pipe fits between forked exhaust rocker arms, further contributing to compact cylinder head design.
37mm Keihin FCR carburettor features four rollers on the flat slide, resulting in very light throttle effort, smooth operation, crisp throttle response and excellent rideability.
Carburettor features a Throttle Position Sensor (TPS) that helps maintain linear throttle response throughout the rev range.
Twin-sump lubrication system separates oil supply to crankshaft, piston and valve train from supply to clutch and transmission. This ensures a steady supply of cool oil to the clutch, eliminates clutch and transmission material contamination of the engine oil, and reduces the amount of circulating oil and the required oil pump size.
Vertically split crankcases feature a built-in oil pump, reducing weight compared to conventional designs.
Gear-driven balancer reduces vibration while also driving the water pump.
Eight-plate clutch provides ample surface area to handle the engine's massive torque, while carefully matched clutch springs provide a light feel at the lever.
Durable five-speed close-ratio transmission.
Magnesium ACG cover, clutch cover and cylinder head cover contribute to reduced engine weight.
Exhaust system uses a lightweight stainless exhaust header and re-packable aluminium muffler with stainless steel pipe.
Dual radiators feature a refined core design for more effective heat dissipation compared to conventional dual-radiator configurations.
Fourth-generation twin-spar aluminium frame derived from Honda's CR series of champions. Forged aluminium steering head and tapered downtube section are designed to optimise frame rigidity, while tall swingarm pivot plates and thin frame spars create a narrow overall frame cross-section for superb rider comfort and manoeuvrability.
Frame design features a single, large-diameter tapered downtube. Two rugged boxsection rails attach to the base of the downtube and support the engine. A forged aluminium steering head provides a compact and extremely durable mount for the frame spars and engine downtube.
Aluminium frame design matched to rider ergonomics for optimised handling and control.
Swingarm features dual-axis, double-taper design with a large cast aluminium crossmember.
Front and rear wheels feature lightweight HRC Works-type aluminium spoke nipples for reduced unsprung weight.
Front wheel features large-diameter front axle and wide wheel-bearing span for excellent rigidity.
Rear axle diameter of 25mm and large-diameter bearings provide significant rigidity to withstand torturous track conditions.
Lightweight, 47mm Showa inverted twin-chamber cartridge-type fork with aluminium dampers. Fork offers 315mm of travel and 16-step rebound and compression damping adjustability. Front fork outer-tubes receive same inner surface honing treatment as Works bikes for low-friction operation.
Pro-Link single-shock rear suspension system features fully adjustable Showa rear damper and 313mm of wheel travel, separate low-speed (13-step) and high-speed (3.5 turns) compression damping adjusters and 17-step rebound damping.
Large 50mm rear damper piston diameter provides consistent performance under demanding riding conditions.
Large, 240mm front and rear disc brakes.
Compact dual-piston front brake calliper, anodised aluminium brake pistons and lightweight front brake rotor minimise unsprung weight for improved turning and handling.
HRC Works-type rear brake system integrates the rear master cylinder and fluid reservoir, eliminating conventional external reservoir and hose.
All plastic body components (radiator shroud, sidecovers, rear fender, seat base, fuel tank, front fender and front number plate), offer a slim, aggressive style and light weight.
Frame design allows airbox sidecovers to have larger intake ducts, contributing to excellent airflow in the mid- and upper-rpm ranges.
Rider ergonomics optimised by adapting handlebar, seat and footpeg height to place the rider's legs at the narrowest cross-section of the frame for improved comfort and handling feel.
Seat cushion foam construction follows the shape of the fuel tank, providing a smooth transition to increase rider mobility and comfort.
'Non-slip' seat cover for enhanced rider control.
Cleated rear brake pedal and folding shift lever made of lightweight aluminium and designed to complement the riding position. Brake pedal features optimised ratio to match integrated rear-brake master cylinder design.
Wide, cleated stainless steel footpegs are self-cleaning, corrosion-resistant, provide excellent grip and fold for extra ground clearance.
Aluminium Renthal handlebar (971 bend) rubber-mounted to reduce rider fatigue and improve comfort.
CR handlebar holders provide three different mounting positions: standard CRF250R holder (CRF450/CR125R-type) provides +/- 3mm fore or aft position to match rider preference, and optional holder (CR250R-type) provides neutral position.
Works-type handlebar grips add to rider comfort.
Adjustable front brake lever.
Quick-adjust clutch perch for easy cable adjustment.
Clutch lever designed to improve feel and action.
Rugged chain guide material improves wear resistance that extends service life by five times over conventional materials.
Front disc brake cover helps protect rotor and calliper from damage.
Removable rear sub-frame allows easy maintenance.
Washable, two-stage foam air filter for optimal engine protection and easy maintenance.
Repackable silencer for maximum performance and minimal noise.
Comfortable, durable controls and high-quality fasteners.
Stainless steel clutch cable for long life.
Honda Racing-inspired colours and graphics.
Specifications
Engine Type - Liquid-cooled 4-stroke 4-valve SOHC single
Displacement - 249.4cm³
Bore x Stroke - 78 x 52.2mm
Compression Ratio - 12.9 : 1
Max. Power Output - 31.4kW/11,000min-1 (95/1/EC)
Max. Torque - 29.1Nm/8,500min-1 (95/1/EC)
Carburation - 37mm Keihin FCR flat slide carburettor with throttle position sensor (TPS)
Ignition System - Computer-controlled digital capacitor discharge with electronic advance
Starter - Primary kick
Transmission - 5-speed
Primary Reduction - 3.116 (57/18)
Gear Ratios - 1 2.142 (30/14), 2 1.750 (28/16), 3 1.450 (29/20), 4 1.227 (27/22), 5 1.041 (25/24)
Final Reduction - 3.923 (51/13)
Final Drive - #520 roller chain
Frame - Semi-double cradle; aluminium twin-spar
Dimensions - (LxWxH) 2,172 x? 827 x ?1,263mm
Wheelbase - 1,479mm
Caster Angle - 27° 50'
Trail - 123mm
Seat Height - 965mm
Ground Clearance - 361mm
Fuel Tank Capacity - 7.3 litres
Dry Weight - 92.7kg
Kerb Weight - 100.5kg
Suspension Type - Front, 47mm inverted Showa leading-axle twin-chamber cartridge-type telescopic fork with 16-step adjustable compression and rebound damping; 315mm axle travel. Rear - Pro-Link with single Showa damper, adjustable lowspeed (13-step) and high-speed (3.5-turn) compression and 17-step rebound damping; 313mm axle travel
Wheels - Front, 21 x 1.60 aluminium rim/wire spoke, Rear 19 x 1.85 aluminium rim/wire spoke
Tyres - Front, 80/100-21 51M, Rear - 100/90-19 57M
Brakes - Front, 240mm hydraulic disc with dual-piston calliper and sintered metal pads, Rear - 240mm hydraulic disc with single-piston calliper and sintered metal pads