Kawasaki MotoGP - 2005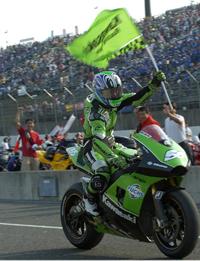 Kawasaki re-entered the Blue Ribbon class of motorcycle racing in 2003 after an absence of twenty years. Having previously won the 250cc and 350cc world championships with South African, Kork Ballington and German, Anton (Toni) Mang, the factory knew that embarking on a programme to race in Moto GP would be daunting.
In its first year, the team and the ZX-RR machine acquitted themselves well as "rookies" while learning their way round new circuits in the company of well known and respected rivals as well as other teams new to the class.
The announcement of the completely redesigned 990cc ZX-RR machine in 2004 illustrated that the Harald Eckl Managed team had moved several strides forward during Winter testing and applied the knowledge of the previous year to good effect.
With slippery aerodynamics, the proportions of a 250cc racing bike and a hugely powerful four cylinder "screamer" motor the ZX-RR demands riders with special capabilities.
Harald Eckl and the factory race department were happy then to sign rising Japanese star Shinya Nakano and talented German former European 250cc Champion, and 250cc GP regular, Alex Hofmann for the team - a duo that he been signed again for the 2005 season.
Among long established teams, the Kawasaki racing Team (KRT) enjoyed a year of dramatic improvements in terms of both race qualifying. Those results culminated in an emotional podium place for Nakano at the prestigious Japanese GP at Motegi, a result celebrated factory executives and his home crowd alike.
Described by BBC Moto GP commentator, Steve Parrish, as "the most improved bike and team of 2004", and current UK Superbike Champion, and Moto GP rider, Shane Byrne, as being the "most nimble bike on the track"; the omens for 2005 are already encouraging.
Team Press Officer, Ian Wheeler, coordinates contact with news media on a worldwide basis.
Based, like the team, in Germany, Wheeler is full of enthusiasm for the Moto GP "underdogs" whist conceding that their time as "also rans" is near its end.
"I could not have written the script better" admits Wheeler, "Starting with a new bike and a new team in year one, getting on the podium during year two, and being highlighted as the most improved team running into 2005 is exactly where we wanted to be."