2005 Suzuki Quadsport Z400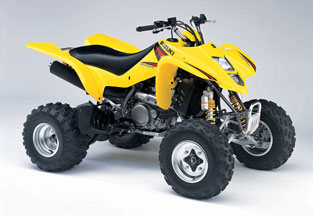 One ride on a QuadSportT Z400 and you'll understand what heart-pounding performance is all about. The QuadSportT Z400 is engineered to be the best all-around sport machine for any terrain - from woods to sand to the track. Boasting industry-leading technology, the QuadSportT Z400 sets the standard for high-performance sport four-wheelers.
Go ahead - take aim and turn it loose. The QuadSportT Z400's hard-hitting and high-revving powerplant lets you blast out of corners and rewards you with awesome acceleration on the straight-aways. And talk about maneuverability! Its lightweight design makes it incredibly agile, while its state-of-the-art chassis and long-travel suspension smooth out the gnarliest terrain.
New Features
Larger 37mm carburetor with throttle position sensor - ignition timing is determined by throttle opening for improved engine response, especially at high rpm.
Revised cam profiles for improved overall power output.
Increased number of clutch drive plates (8 to 9) for improved clutch operation and feel.
New magnesium valve cover, clutch cover and ignition cover for improved engine appearance and reduced weight.
Piggyback reservoir-style front shock absorbers featuring adjustable preload, compression & rebound damping for improved overall suspension performance.
New aluminum front bumper and aluminum rear grab bar for improved appearance and reduced weight.
Aluminum gear shift lever for lighter gearshift feel and reduced weight.
Key Features
The Suzuki QuadSport Z400 is engineered for high-performance off-road four-wheeling by experienced riders.
Aggressive-styled mid-size sport ATV featuring a dependable 4-stroke engine and lightweight chassis design with adjustable long-travel suspension.
Engine Features
Compact & lightweight 398cc 4-stroke, single-cylinder, liquid-cooled engine with counter- balancer based on the proven DR-Z400E design - tuned for tractable power over a wide rpm range.
Cylinder head features large 36mm intake and 29mm exhaust valves, plus a narrow 28º included valve angle creating a more compact combustion chamber, with high compression ratio and a straight intake tract for improved torque.
Cams are direct acting-type with shim-under-bucket valve adjustment.
Forged aluminum alloy piston and SCEM-plated aluminum cylinder are lightweight and durable. SCEM plating reduces cylinder weight (no iron sleeve) and improves cooling efficiency.
Large Mikuni BSR 37mm carburetor with TPS sensor provides quick throttle response and maximum fuel efficiency.
Liquid-cooling system with high-capacity radiator and thermostatically-controlled cooling fan provides consistent engine operating temperature.
Dry-sump lubrication system allows a compact crankcase and minimal engine height for optimum engine placement - oil tank is frame-mounted in front of the exhaust head pipes.
Five-speed transmission with cable-operated clutch includes an easy-to-use reverse gear system - just turn the fender-mounted knob and shift from neutral to reverse using the gear shift lever.
Convenient electric start system includes Start-In-Gear feature - electric start system and CDI ignition are powered by compact maintenance-free battery.
Chassis Features
Aggressive-styled bodywork with high fenders and air intake vents to enhance sport style and improve airflow to radiator - large T-shaped seat provides high comfort and maneuverability.
Dual 30/30W, vertically-mounted halogen headlights provide a bold look and bright illumination - large 5/21W taillight/brake light combination is standard Lightweight, high tensile steel-alloy frame and removable steel sub-frame, plus aluminum swingarm.
Long-travel, independent double A-arm front suspension with fully-adjustable shock absorbers - provides 8.5 inches of wheel travel for a comfortable ride over all types of terrain.
Linkage-type rear suspension features fully adjustable shock absorber with 9.1 inches of wheel travel, plus 8.5 inches of ground clearance.
Large 6.9 inch dual front disc brakes and single 8.6 inch rear disc brake - all with single-piston pin-slide calipers.
Lightweight aluminum alloy wheels (F: 10.0 x 5.5, R: 9.0 x 8.0), and radial tyres (F: 22 x 7-10, R: 20x10-9), for reduced unsprung weight.
Heavy-duty front bumper and high-impact resistant polyethylene skid plate Wide serrated-type footpegs for high grip and comfort.
Large 2.6-gallon fuel tank with two mounting points for quick removal and simplified maintenance.