2006 Yamaha FZI Fazer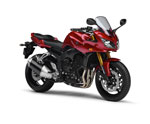 2006 FZ1 & FZ1 Fazer;
Designed for a wide audience;
The new FZ and FZ Fazer are designed to appeal to a diverse group of riders, including owners of the existing Fazer 000, and also riders of other large capacity naked and faired sports bikes.
With its combination of an R -based engine, an advanced and lightweight cast aluminium chassis, and exceptional real-world versatility, the new FZ offers class-leading levels of engine and chassis performance, and looks set to become the industry standard in the large-capacity naked sports bike sector. And for those riders looking for a high specification sports bike that offers extra longer-distance comfort, the faired FZ Fazer fits the bill perfectly.
Another target group for the new FZ and FZ Fazer are those supersport riders who are rediscovering the versatility and excitement of modern sports bikes. Drastic changes in the traffic environment in many European countries - including new speed limits and higher insurance costs - are already affecting many supersport riders' attitudes. With its R -like levels of acceleration together with remarkable driveability and an awesome mid-range punch, these new one-litre sports bikes are designed to appeal to those riders who appreciate that excitement, passion and emotion can also be experienced at real-world speeds.
Specially-tuned version of the legendary R1 engine;
The new FZ and FZ Fazer are powered by a specially-tuned version of the latest R 's 998 cc in-line 4-cylinder engine that has made its name as one of the most impressive performers in the one-litre supersport category, on the road and on the race track.
Both the naked FZ and the faired Fazer 000 are designed for riders who are looking for a versatile machine that delivers class-leading performance, and in order to achieve these goals, the legendary R engine was chosen as the starting point for the project. This free-revving, short-stroke 998 cc fuel-injected engine has already established a reputation amongst supersport riders for its remarkable performance as well as its wide spread of torque and outstanding reliability, and therefore the designers agreed unanimously that this was the ideal basis for these new models.
The typical usage characteristics of both the FZ and FZ Fazer will be significantly different from the R , and for this reason the development team have made a significant number of changes to the stock R engine. However, this new engine is designed to deliver the same extreme levels of excitement and exhilaration as the R!
The basic architecture of the FZ /FZ Fazer engine remains virtually identical to the base R unit: it is a 998 cc liquid-cooled DOHC in-line four-cylinder 5-valve engine with fuel injection, running with bore and stroke dimensions of 77 x 53.6 mm. And with identical crankcases, pistons, cylinder and cylinder head, the R-series heritage is clearly evident in the genes of the new engine. Owners can rest assured that the advanced technology that has made the R such an outstanding success comes as standard equipment on this new high-performance street bike.
Some of the features that are carried straight across from the R include lightweight forged pistons, a highly rigid closed deck cylinder design, linerless directly coated cylinders for excellent heat dissipation, and FS (fracturesplit) connecting rods.
Nevertheless, although the new engine benefits from plenty of the R 's thoroughbred genes, its advanced technical specification differs in crucial areas. In order to create a high performance powerplant that produces even stronger mid-range torque, a significant number of changes have been made.
Optimisation of flywheel mass for stronger mid-range torque One of the most significant changes seen on the new engine is the use of a completely new flywheel design. It is this feature in particular that helps to boost the mid-range torque output of the legendary 998 cc engine, giving it class-leading acceleration and remarkable throttle response in every gear.
With a crank inertial mass that is a full 40% higher than on the R , the new flywheel design is one of the main factors in creating an engine with outstanding all-round performance combined with a truly exhilarating and exciting character.
High levels of rear wheel drive force;
The rear wheel drive force has a major influence on the character and performance of every motorcycle. Evaluating this facet of a bike's character is often left to the subjective opinions of road testers, but the actual value of rear wheel drive force can be accurately calculated by using a formula that quantifies the relationship between the torque value at the drive axle, the ratio of a specific gear, and the rear tyre diameter.
As previously stated, a major goal of the design team was to create an engine that would offer superb performance characteristics in the mid-speed range. Or, in other words, we aimed to build an engine that would be exciting, versatile and easy to use in today's typical 'real world' situations.
This has been achieved by focusing on attaining the most desirable rear wheel drive force values in the chosen speed range. Factors that have a positive influence on the engine character include the greatly increased crank inertial mass; the new-generation EXUP; revised 5th and 6th gear ratios (compared with the R ); the lower .5: compression ratio; and the use of a 90/50ZR 7 rear tyre with an external diameter of 622 mm.
All of these features have worked together to increase rear wheel drive force by 7% in the crucial mid-speed range when compared with the R . To the new model's rider, this increased rear wheel drive force translates into truly exhilarating acceleration in the mid-speed bracket that is experienced in the typical urban/suburban riding situation. And out on the highway, this 7% increase in drive force makes for outstandingly strong roll-on acceleration.
Fuel injection with sub-throttle valve;
Another of the major advances is the adoption of fuel injection, which replaces the BSR37 carburettors that were used on the 2005 FZS 000 model. The injector is a four-hole two-way design featuring a long plate-type nozzle which ensures efficient fuel delivery across a wide engine speed range.
This advanced system uses the same intake structure as the R , and benefits from a sub-throttle valve actuated by the 32-bit ECU which constantly adjusts the sub-valve to match rpm and throttle opening.
By optimising the intake air speed, this sophisticated fuel injection system helps to achieve optimum volumetric efficiency, and in doing so it makes for excellent driveability - particularly in the low to mid-speed ranges.
Chamberless exhaust pipes and short silencer with 3-way catalyser Another important feature which has been developed in order to achieve stronger performance in the important mid-speed zone is the stainless steel chamberless 4-into-2-into- exhaust pipe design and short silencer.
The length and diameter of the new exhaust system have been selected to enhance the characteristics of the versatile new engine, while the new ultra-short silencer features highly-efficient hexagonal shaped internals which incorporate a 3-way catalyser with an O2 (lambda) sensor. The sensor constantly monitors oxygen concentration inside the exhaust, and relays this information to the intake system, which adjusts the fuel supply accordingly. This system ensures highly efficient engine performance at all running speeds and conditions, and also enables both models to exceed EU3 requirements.
In addition to its technological benefits, the short muffler also makes for a condensed silhouette, and in doing so it helps emphasise the models' compact and concentrated appearance.
Compact EXUP system;
The EXUP (Exhaust Ultimate Powervalve) is the industry's most advanced exhaust gas management system, and has been used successfully for many years on various Yamaha road and race machinery. By controlling exhaust gas flow rates by means of a valve, the Yamaha EXUP system prevents 'blow back' caused by pressure within the exhaust coinciding with the intake and exhaust valve overlap period. The EXUP system fitted to both the FZ and FZ Fazer is a further development of the R 's compact EXUP design, and features a steel valve located just beyond where the four header pipes merge into one.
By boosting low to mid-range torque, the EXUP valve contributes to the models' outstanding driveability in the most commonly-experienced mid-speed range associated with typical all-round usage.
Optimised gear ratios;
To complement the internal engine modifications that are aimed at enhancing the 998 cc R -based engine's power delivery characteristics, the engine runs with revised 5th and 6th gear ratios in order to optimise rear wheel drive force in the most commonly experienced speed range. Lower compression ratio; Revised camshaft profiles Another significant difference between the R engine and new FZ /FZ Fazer powerplant is the adoption of a lower compression ratio, which is down from 2.4: to .5: by adjusting gasket thickness.
At the same time, Yamaha's engineers have also developed new camshafts with milder profiles which, together with all the other specific features, make for superb flexibility combined with a truly exciting riding experience.
New curved radiator with dual ring fans;
For consistently strong running performance the new FZ /FZ Fazer are fitted with a large capacity curved radiator with a coolant capacity of 2.5 litres. Equipped with dual ring fans, this high-efficiency design offers a radiation capacity of 29 kW for effective heat dissipation in all conditions.
150 HP at 11,000 rpm;
The wide range of technical changes featured on the new models has helped to create a new classleading sports bike engine. Delivering 50 HP at ,000 rpm - together with extremely high levels of rear wheel drive force, these new motorcycles are designed to offer riders the exhilaration of a supersport machine combined with the day-to-day versatility of a street bike.
Technical Highlights;
R derived 4-stroke liquid-cooled DOHC 998 cc in-line 4-cylinder engine
Increased torque output
40% higher crank inertial mass
7% increase in rear wheel drive force compared with R
50 HP / ,000 rpm
R bore and stroke: 77 x 53.6mm
.5: compression ratio
Closed deck cylinder
Forged pistons
Linerless directly coated cylinder
FS (Fracture Split) connecting rods
R -type fuel injection with sub-throttle valve
New 5th and 6th gear ratios
Modified camshaft profiles
3-way catalyser with lambda sensor
Curved radiator with twin ring fan
Chamberless 4-into-2-into- exhaust pipe and extra-short muffler
Compact EXUP system
Chassis;
All-new cast aluminium frame;
The new FZ and FZ Fazer benefit from a completely new cast aluminium frame which has been designed to match the performance characteristics of the re-tuned 998 cc R -based engine. The compact new frame is 89 mm narrower than the 2005 design, and has been manufactured using Yamaha's pioneering metal mould casting system which allows our designers to build in an idealised rigidity balance for excellent handling qualities. This is achieved by varying the thickness of the aluminium in one millimetre increments to obtain the desired levels of rigidity in any one place.
For example, rigidity around the head pipe and swingarm pivot are at the highest level, while a degree of balanced flex has been deliberately engineered in at strategic points to enhance feedback from the road surface. By doing so, we have been able to create an all-new lightweight frame design which offers the optimum balance of vertical, torsional and lateral rigidity.
A newly designed slimline aluminium subframe incorporates the passenger footrest bracket mounts, further reducing weight and also ensuring that the clean lines of both models' rear ends are maintained.
998 cc engine used as stressed member;
Just like the YZF-R , and also our YZR-M MotoGP winning bikes, the new FZ and FZ Fazer utilise the slant-block 998 cc in-line four cylinder engine as a fully stressed member on the new aluminium frame.
Rigid mounts are used at a total of six positions, with two mounts on the rear of the cylinder head, and four mounts at the upper and lower crankcase and the rear of the engine. This proven method, where the engine is 'hung' from the frame, makes for high levels of vertical rigidity, which is a key factor in achieving optimum handling performance, and especially for high levels of stability during braking.
Long CF die-cast aluminium swingarm;
Another feature - that was originally developed for the YZF-R - is the extra-long truss-type aluminium swingarm. At 624 mm long, the new swingarm is 45 mm longer and is also more rigid than the 2005 design. The new swingarm is manufactured using Yamaha's exclusive 'CF die-cast' aluminium casting method which has enabled us to manufacture light and strong aluminium components.
The benefits of the long swingarm include a reduction in the negative effects of chain tension on driving force, and this type of swingarm is also associated with excellent handling and suspension characteristics.
Optimised frame geometry;
The main focus of the design team has been to create a new kind of high performance sports bike that offers new levels of driveability. With this goal in mind, we have carefully chosen the FZ /FZ Fazer's frame geometry so that it will deliver what we describe as athletic handling performance. Furthermore, both models have been designed to deliver plenty of feedback for truly enjoyable handling in a wide range of situations, from urban commuting through to corner carving along country roads.
A key factor in ensuring that both the FZ and FZ Fazer deliver class-leading handling is the 5 % front wheel weight distribution, and this has been made possible by shifting the engine forwards by 2 mm compared with the existing model. The caster angle has also been reduced to 25 degrees - one degree less than the 2005 FZS 000, and front fork offset is now 25 mm - a full 0 mm less than the 2005 model, and 5 mm less than the R.
The 5 % front wheel weight bias - combined with a compact ,460 mm wheelbase, 25 degree caster angle, 25 mm fork offset and 09 mm trail - make for responsive and agile sports handling qualities.
Forward riding position;
Another major contributory factor in any motorcycle's handling characteristics is the riding position, and on both models a great deal of effort has gone into creating a position that enhances handling performance, while at the same time delivers superb comfort. The new fuel tank is shorter than the FZS 000 design, and this, together with the longer rider's seat, allows the rider to sit 49 mm further forward on the bike. Furthermore, the handlebars are 25 mm lower and 0 mm closer to the rider, while the footrests are 6mm higher and 27 mm further back than the 2005 layout.
This much more sporty forward riding position makes a positive contribution to both models' agile and responsive handling qualities, and by positioning the rider closer to the front wheel, it also enhances the feeling of control.
In addition, the combination of the new slim cast aluminium frame and the forward riding position allows for excellent knee grip, to give enhanced ergonomics and a more involving and rewarding riding experience.
43 mm upside-down forks with separated damping functions The new upside-down front forks are the same diameter as those fitted to the YZF-R and feature 43 mm flex-resistant tubes for excellent suspension characteristics and smooth action over their entire 30 mm stroke.
One of the key features of these new forks is the fact that the damping functions are separated between each leg. The left fork leg contains the compression damping valves, while the right leg carries the rebound damping mechanism. By separating the front fork's compression and rebound damping functions in this way, each set of valves in each fork tube needs only to accommodate the oil flow in one direction, making for simplified settings.
This system has already been used successfully on Yamaha's YZR-M , and is another example of how sophisticated racing technology is transferred to Yamaha's road machines.
Dual 320 mm front discs;
The new braking system reflects the FZ and FZ Fazer's high performance potential, and so an extremely high specification design has been fitted. Dual front discs are 320 mm diameter - the same as the R - and these large-diameter discs are gripped by radially mounted 4-piston calipers. The MOS X 64 calipers are extremely resistant to deformation during braking, and subsequently this advanced system delivers excellent braking performance and accurate control.
At the rear wheel a lightweight 245 mm disc is slowed by a single-piston pin-slide type caliper which gives plenty of feel and a progressive action.
R1-style 5-spoke alloy wheels;
Even more supersport technology is evident in the lightweight 5-spoke wheels, which are the same specification as the R . Their advanced design incorporates varying thicknesses of metal at different places, and it is this feature that makes them both light and extremely strong.
The front wheel runs with a 20/70-ZR 7 tyre, while the rear wheel features a 90/50-ZR 7 tyre which plays a major role in achieving the models' extremely high levels of rear wheel drive force.
New instrumentation with fade-in function;
The compact new multi-function instrumentation consists of a digital speedometer situated on the left, and an analogue tachometer on the right. When the ignition is turned on the backlighting comes in slowly, and gradually gets brighter over the first few seconds. And, like the R , the new instrumentation features a brightness adjuster.
Also new for 2006 is a lightweight battery, and an immobiliser is fitted as standard equipment.
Muscular styling;
Every aspect of the new FZ and FZ Fazer has been designed to create a compact and concentrated muscular feel which draws the eye towards the engine as the focal point. The new cast aluminium frame appears to grasp the engine, and it seems that everywhere you look on this machine, it is crammed full with functional and beautifully-finished components.
This muscular and athletic character is particularly pronounced on the FZ , and the fact that this model is naked accentuates the compactness of the engine, chassis and bodywork, and emphasises the bike's brutal and aggressive image.
The centralisation of mass of these high specification sports bikes is further emphasised by the forward riding position and the short fuel tank, and everything from the short silencer to the compact instrumentation and slim tail unit enhance the concentration of power.
Technical Highlights;
All new CF cast aluminium main frame - 52% lighter than 2005 design
Main frame 89 mm narrower than 2005 design
FZ Fazer overall weight 4 kg less than 2005 FZS
Engine utilised as stressed member
Long CF die-cast aluminium swingarm
5 %/49% front/rear wheel weight distribution
Shorter 8-litre fuel tank
Forward riding position
Stylish aerodynamic fairing - FZ Fazer
460 mm wheelbase
25 degrees caster angle
09 mm trail
25 mm fork offset
43 mm upside-down forks with separated damping functions
Dual 320 mm front discs with radially mounted brake calipers
245 mm rear disc
R -style 5-spoke wheels
Dual headlights - FZ Fazer
New style single headlight - FZ
New style tail light
90/50-ZR 7 rear tyre - 20/70-ZR 7 front tyre
Compact digital/analogue instrumentation
Compact and concentrated muscular body styling
FZ1 AND FZ1 Fazer;
Featuring the very latest engine and chassis technology - much of it transferred straight from the latest generation R - the new FZ and the FZ Fazer represent a bold and exciting new direction for the large capacity sports bike sector.
As well as being extremely versatile, these high performance, high specification sports bikes are designed to generate the highest levels of excitement, exhilaration and emotion in the class. And with their compact and muscular body styling, the naked FZ and the faired FZ Fazer look sure to attract even more attention to the one-litre sports category in 2006 and beyond.
Launched at Intermot in autumn 2000, the original FZS 000 Fazer - more commonly referred to in the motorcycle world as the Fazer 000 - has come to be regarded as one of the most exciting high-performance all-rounders. With its strong and flexible engine performance, excellent rider and passenger comfort, and the ability to perform well in almost any riding situation, the ,000 cc Fazer has established an excellent reputation.
Since its launch many developments have taken place, both in the world of machine design, and also with respect to the demands and expectations of today's sports and supersport riders. In order to satisfy the changing requirements of the marketplace, Yamaha have taken the sports bike concept to a whole new level with the launch of the radical new faired FZ Fazer. Developed using the most advanced engine and chassis technology - much of it from the latest R - this aggressively-styled high-specification machine is built to deliver the most exciting performance ever seen in the sports bike class.
At the same time as offering a truly exhilarating riding experience, this new sports model is also a remarkable all-rounder, offering a whole new level of versatility. With a specially-developed hightorque engine and lightweight aluminium chassis, the faired FZ Fazer can handle everything from secondary road carving through to commuting and touring.
Engine Type - Liquid-cooled, 4-stroke, forward inclined parallel 4-cylinder, DOHC
Displacement - 998 cc
Bore and stroke - 77.0 x 53.6 mm
Compression ratio - 11.5:1
Max. power - 110.3 kW (150 HP) @11,000 rpm
Max. torque - 106.0 Nm (10.8 kg-m) @8,000 rpm
Lubrication - Wet sump
Fuel supply - Fuel injection
Clutch type - Wet, multiple-disc
Ignition - TCI (digital)
Starter system - Electric
Transmission - Constant mesh, 6-speed
Final transmission - Chain
Primary reduction ratio - 1.521
Secondary reduction ratio - 2.647
Gear ratio - 1st, 2nd, 3rd, 4th, 5th, 6th 2.533, 2.062, 1.762, 1.522, 1.350, 1.208
Chassis;
Frame - Aluminium die-cast, diamond shaped
Front suspension - Telescopic upside down forks
Front wheel travel - 130 mm
Rear suspension - Swingarm (link suspension)
Rear wheel travel - 130 mm
Caster angle - 25°
Trial - 109 mm
Front brake - Double discs, Ø 320 mm
Rear brake - Single disc, Ø 245 mm
Front tyre - 120/70 ZR17M/C (58W)
Rear tyre - 190/50 ZR17M/C (73W)
Dimensions;
Overall length - 2,140 mm
Overall width - 770 mm
Overall height - 1,205 mm
Seat height - 815 mm
Wheelbase - 1,460 mm
Min. ground clearance - 135 mm
Dry weight - 204 kg
Fuel tank capacity - (reserve) 18 litres (3.4 litres)
Oil capacity - 3.8 litres
Specifications are subject to change without notice, in accordance with national regulation and legislations