2006 Ducati Multistrada Range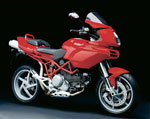 |
|
The Multistrada needs no presentation. Its name alone evokes a unique style of motorcycling. The sports-big enduro concept may be a simple one, but it takes a concentration of technology and innovation to perfect it, and only the Ducati Multistrada has succeeded so far.
The arrival of the Multistrada created a whole new market segment. Many of Ducati's competitors are desperately trying to follow suite, and imitations are becoming more and more common. It was Ducati, of course, who came up with the idea first, and turned the dream of the universal motorcycle into a fantastic reality.
Designed and built for maximum versatility, the Ducati Multistrada is the most original and modern motorcycle around. Capable of performance riding on all types of road, it also guarantees made-to-measure comfort on long journeys and thoroughbred sports performance too. This amazing cocktail can be savoured in a number of versions, because the Multistrada is really a coordinated family of motorcycles, ranging from the entry level 620 Dark to the 1000 S DS, with power to spare but the same easy temperament for safe, enjoyable riding.
Many modern motorcycles claim to be a blend of two or more types, but none deliver the total versatility of the Multistrada. The Ducati Multistrada was conceived and developed specifically to combine the benefits of sports and big enduro motorcycles in a single machine that is far more than just another supermotard. The Multistrada adapts perfectly to all types of roads and performs impressively on off-road excursions too. The Multistrada means maximum enjoyment in all situations.
The Model Year 2006 Multistrada comes in a complete and intelligently targeted range. All models have been updated in small but important technical and functional details. You can also customise your Multistrada with a range of options, including touring accessories like dedicated luggage and racks, and performance-oriented items like dedicated racing exhausts.