2010 Honda SH125i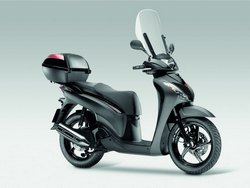 Introduction
The overwhelmingly popular SH125i offers unrivalled practicality, comfort and safety. Featuring chic, urban
styling, it comes in a choice of trendy colours. including for 2010, a stunning new Matt Cynos Grey Metallic/
Black version (please remove as this colour is only for the Sporty version). With a low seat height, generous
legroom and a wide, flat footboard that doubles as a useful carrying space, it offers a roomy and comfortable ride position. The popular compact and bigwheeled SH125i design contributes to easy handling through city traffic and urban streets. A large rear disc brake adds to the feeling of safety and stability.
The SH125i is powered by a compact and reliable 4- stroke engine with a smoothly efficient fuel injection
system. It delivers strong, dependable power and quick acceleration. A large fuel tank and enviable fuel
economy combine for convenient and economical commuting, while the scooter's low running and maintenance costs make it a popular choice among younger riders.
Its contemporary styling integrates a sporty integrated windscreen that provides substantial wind protection.
A wide, comfortable passenger seat and convenient grab rail make it easy to share the fun, and its generous
underseat space easily holds whatever you need to take along for the day's adventures.
Fresh, fashionable and easy to own and ride, the SH125i is the ultimate feel-good transport, and the best loved scooter across Europe.
Colours
Quasar Silver Metallic
Pearl Cool White
Pearl Nightstar Black
Velvet Red Metallic
Pearl Montana Blue
Main features
Compact and reliable, fuel-injected, liquid-cooled 4- stroke engine delivers strong, dependable power and quick acceleration.
Rugged V-Matic belt-converter transmission ensures smooth power delivery.
7.5-litre fuel tank and superior fuel efficiency combine for convenient and economical commuting.
Large rear disc brake adds to feeling of safety and stability, providing powerful, progressive and balanced stopping force.
Big 16" wheels provide excellent road grip plus extra stability and safety on bumpy surfaces.
HECS3 oxygen-sensing catalytic exhaust gas converter system keeps harmful emissions to
a minimum and easily meets the demands of EURO-3 emissions regulations.
Attractive, large-face meter panel features a central easy-to-read speedometer, surrounded by coolant
temperature and fuel gauges, indicators and an LCD clock.
Wide range of optional accessories includes security kit, scooter blanket, tall windscreen and stylish 35L top box.