1955 Royal Enfield Meteor 700cc Secioned Show Model

This sectioned exhibition Enfield model shows the constuctional details of virtually every component and sub-assembly of the Meteor.
The production models gave out 36bhp @ 6,000rpm and this increased power meant that an extra clutch plate was required together with modified damping of the rear suspension units and a stiffer rear fork than on the earlier 500cc machine. To cope with the higher speed, the machine was given a dual 6 inch front brake and a 7 inch rear brake.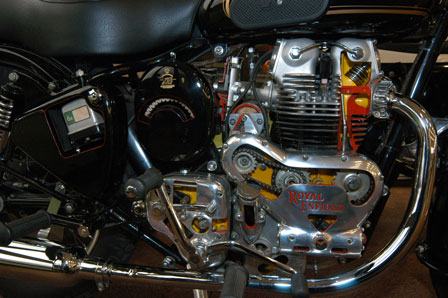 The 1953 Motor Cycle road test reported very favourably on the machine and gave a top speed of 94mph. Detail improvements followed over the next few years, including a change to separate magneto ignition and an alternator system in 1956. The model shown here has the 1955 pattern of magdyno and the last year of metal tank badges. The price was approx. £240.0.0.