Welcome to the World of BMW
---
2007 Ranges | 2006 Ranges | 2005 Ranges | 2004 Ranges
---
Welcome to the World of BMW
No matter what your idea of the perfect motorcycle experience there will be something in the 2007 World of BMW programme that will interest you. From the very basics of learning to ride through to the opportunity to ride across far away lands or take to the dirt on a BMW motorcycle it's all here.
And throughout you'll be guided and instructed by some of the most experienced people in the business. How many off-road experiences are run by a Dakar Rally veteran? The BMW Off-Road Skills Course is run by six times Dakar entrant Simon Pavey.
Our BMW Rider Training courses are headed by Kevin Sanders, the rider who holds Guinness World Records for Circumnavigation of the World and the Trans-Americas route. Then there's our BMW Tour Director, Richard Harvey 20 years experience of organising trips across the globe. Few people know more about taking people around the world than Richard.
The 2007 World of BMW programme has so much variety that there is certain to be something to capture your imagination. Ride with us and we guarantee to broaden your horizons.
BMW Off-Road Skills
The World of BMW Off-Road Skills programme continues to go from strength-to-strength. In 2006 almost 900 riders learnt to ride off-road with us, and as such we are expanding the 2007 programme to incorporate even more Level One and Level Two courses as well as the Brecon Beacons Adventure and HP2 Experience. The BMW Off-Road Skills Course is based at the amazing 4000 acre Walters Arena Enduro Park in the Brecon Beacons.
For those that want to discover just what great fun it is to ride off-road in a fantastic, controlled and safe environment, the World of BMW Off-Road Skills programme is the best place to start. Led by six -times Dakar Rally competitor Simon Pavey, the team of quality instructors know everything that you could possibly want to know about off-road riding. They have the expertise, riding ability and genuine enthusiasm for motorcycling, and are on hand to teach you the skills that make it an enjoyable and unforgettable experience.
Add to this mix some fabulous off-road adventures to amazing locations such as the BMW off-road centres at Aras Rural in Spain and Hechlingen in Germany, as well as the formidable Erzberg mountain in Styria, Austria and you are spoilt for choice.
The BMW Off-Road Skills courses will be run on the following dates:
Level One
30-31 March
1-2 April
13-14 April
15-16 April
27-28 April
29-30 April - Women Only
11-12 May
13-14 May
25-26 May
27-28 May
8-9 June
10-11 June
22-23 June
24-25 June
5-6 July
9-10 July - Women Only
14-15 July
22-23 July
3-4 August
5-6 August
17-18 August
19-20 August
8-9 September
14-15 September
16-17 September
28-29 September
30 September - 1 October
12-13 October
14-15 October
Level Two
15-16 April (Sun-Mon)
13-14 May (Sun-Mon)
10-11 June (Sun-Mon)
14-15 July (Sat-Sun)
19-20 August (Sun-Mon)
16-17 September (Sun-Mon)
30 September-1 October (Sun-Mon)
Brecon Beacons Adventure
17 April (Tue)
15 May (Tue)
12 June (Tue)
11 July (Wed)
16 July (Mon)
18 September (Tue)
2 October (Tue)
HP2 Experience
2 April (Mon)
26 May (Sat)
25 June (Mon)
4 August (Sat)
9 September (Sun)
15 October (Mon)
Off-roading in the Pyrenees
3-7 May (Thurs-Mon)
18-22 October (Thurs-Mon)
BMW Tours
BMW Tour director, Richard Harvey has been arranging motorcycling tours since 1987 and in 1999 he began his partnership with the World of BMW.
The 2007 schedule has trips to suit all tastes. The huge variety of adventures stretch from a three-day break in northern France to a three-week adventure in New Zealand. Daily mileages on our trips have also been carefully planned out to offer a mix of distances depending on whether you'd prefer lots of riding in your break or a more relaxed itinerary with plenty of luxury.
Some of the tour highlights include two-weeks in Morocco, a short break in the French Champagne region and a trip to the BMW international Biker Meeting at Garmisch-Partenkirchen. The 2007 BMW Tours will include:
Battlefields of the Somme - 27-29 April 2007
Serious riding in northern Spain - 6-15 May 2007
Roads to Morocco - 6-22 May 2007
Luxury weekend in Champagne - 18-20 May 2007
Mediterranean Island hopping - 25 May - 8 June 2007
Tatra Mountains & Slovakia - 27 May - 9 June 2007
Scandinavia - The best bits - 15-29 June 2007
Southern Spain & The Alhambra - 24 June - 6 July
Baltic States revisited - 27 June - 11 July 2007
Luxury In Austria - 29 June - 8 July 2007
BMW Motorrad International Biker Meeting - 4-11 July 2007
Tours Director's selection - 15-22 July 2007
Mountains all the way - 4-12 August 2007
To Verona for the open-air opera - 17-26 August 2007
Easy riding to Annecy - 18-25 August 2007
Discover the magical Black Forest - 2-8 September 2007
The Riviera lifestyle - 15-27 September 2007
Trail riding tour to Portugal - 16-25 September 2007
New Zealand 2008 - March 2008

BMW Rider Training
The World of BMW Rider Training programme is now in its second year. Located on the edge of the beautiful Brecon Beacons you will not only have the opportunity to learn new skills from the highly qualified instructors, but also ride some of the best biking roads in Britain. With the forthcoming changes to the motorcycle test in 2008 now is a great time to get on two wheels.
Headed by double Guinness World Record holder Kevin Sanders the World of BMW's Rider Training courses prove that you never stop learning. There's a course to suit everyone, from complete beginners to riders with many years experience.
The big news for 2007 is the introduction of our Road Skills courses. Replacing our Advanced and Refresher days the new two-day format allows riders to sharpen their skills in a sociable and friendly atmosphere while riding on some of the best biking roads in Britain. There are three levels of Road Skills depending on the experience of the rider.
As in 2006 for those looking to take their Direct Access (DAS) test there are courses running between four and seven days including the test day. As with all the Rider Training events, participants on the DAS courses will also be able to enjoy riding the fabulous roads in the Brecon Beacons throughout their training.
For 2007 there will also be the added bonus of a BMW F 800 S on the school's fleet of bikes. So those who are taking part in one of the BMW Road Skills courses will have the opportunity to try out BMW's highly acclaimed F 800 S while perfecting their riding skills.
BMW Track Days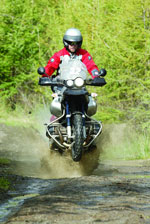 This season BMW Motorrad will have a fleet of BMW Motorcycles at selected 'Focused Events' track days, including the formidable R 1200 S, K 1200 S, K 1200 R and F 800 S models.
BMWMotorrad has launched a new range of sportier, more dynamic bikes over the past 18 months and the best way to truly appreciate and enjoy these machines is to discover their potential (and your own!) on some of the UK's best circuits, such as Brands Hatch, Donington Park and Silverstone.
Through hard work and attention to detail Focused Events has become the premier operator of motorcycle track days in the UK. As such they were the obvious partner for BMWMotorrad.Their team of experts will be on hand at all events to ensure you get themost from your BMWMotorrad on-track experience. For more information see www.focusedevents.com.